24. februar 2023
Our New I/O Modules Product Family – Security of Supply even in large quantities
Why have we developed the new I/O Module product family?
Current supply shortages of components are a major challenge not only in our industry. This will not change in the near future. To ensure that you continue to receive all the devices you need from us in sufficient quantities, we have developed a new I/O module product family.
When developing the new modules, which are all designed as Bihl+Wiedemann's Choice articles, we have paid particular attention to two things: Firstly, that we only use components that are available in large quantities even in extremely difficult procurement markets. Secondly, the focus in designing the modules was to develop a high-performance, low-cost technology.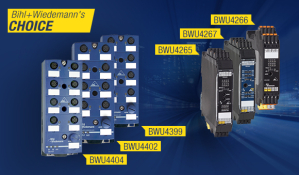 Further high-availability products are planned
Are you looking for an alternative for a product that is currently in limited supply or not available at all? Then please contact us! One thing is certain: We are expanding the new product family quickly and continuously – so that you will continue to get all the products you need in the future. We will of course inform you about newly available products.
What else are we doing to improve our ability to supply you? For example, we are increasing stock levels and thus increasing component availability for our products. In doing so, we also accept significantly higher prices for necessary components.
ASi PROFINET Gateways are in good supply
Do you already know our ASi PROFINET Gateways, which are e.g. perfectly suitable for the connection to the Siemens PLC? The gateways are also characterized by their high availability