26. maj 2023
"EASY ASI": PLANNING, CONFIGURATION, OPERATION AND DIAGNOSTICS MADE EASY

Simplicity is everything – this is the basic thought behind AS-Interface since the very beginning. It applies to all ASi generations up to ASi-3, and even more so for ASi-5 as the current technology standard which for the past three years or so has found success throughout the world of complex machines and systems while accelerating smart, digitalized automation concepts. Installers and commissioning engineers alike have long enjoyed the many benefits of the yellow ASi profile cable:
One cable for data and power – no parallel wiring with its cable bundles
Available by the roll where it is always available as needed – no stocking of different cable variants,
Simple connection of modules using piercing technology
Reverse polarity protection thanks to asymmetrical cable geometry
System- and manufacturer-neutral,
Free topology of the ASi network
Modules are quickly and easily connected, replaced, moved or added – even at a later stage
And these are just the key features. But AS-Interface is far more than the cable itself, rather it's a matter of what you are able to accomplish with it – namely intelligently and economically network sensors, actuators and controllers for machines and systems. To this end Bihl+Wiedemann has not only devoted great effort in their development of high-performance hardand software tools; the company also applies the experience gathered from a large number of already installed ASi modules and solved applications. The primary development goal has been to offer the user maximum ease of use in the planning, parameterization, commissioning, diagnostics and maintenance of the individual ASi devices as well as the overall system.
Intuitive and secure setup of ASi networks
To make the planning, configuration, parameterization and commissioning of ASi networks as convenient and secure as possible in the fastest possible time, Bihl+Wiedemann offers Software Suites with two intuitive software programs: ASi Control Tools360 and ASIMON360 – the latter including safety aspects for the transmission of both safe and nonsafe data over the same cable. Both software tools support ASi-3 and ASi-5 components equally and enable simple integration of IO-Link devices.
The Software Suites feature an integrated hardware catalog that makes planning and configuration of ASi networks and parameterization of ASi modules in the software significantly easier. The necessary ASi-3 and ASi-5 modules are moved via dragand- drop from the catalog into a virtual control cabinet. Which level of technology is used is determined by the respective function. To integrate binary signals from a light curtain, only an inexpensive ASi-3 module is basically needed. When something like complex inverters or intelligent IO-Link devices must be integrated, ASi-5 offers the required data bandwidth and transmission speed.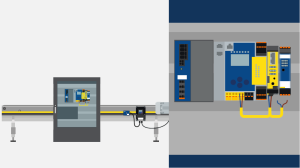 Simple wiring of ASi modules in the control cabinet
During offline configuration the integrated commissioning wizard continuously performs plausibility checks, such as the number of devices in the ASi network, the presumed current draw, or the expected data quantity. If permissible values are exceeded, the software recommends additional ASi circuits. Once an ASi network is then activated, the online bus information can be used to simulate, diagnose and monitor the behavior of the in- and outputs. This shows you immediately what effects the current settings of the ASi modules are having. Possible errors in the ASi network are directly viewable, all the devices can be individually selected and their parameters modified live by the user.
Modules with drive profiles simplify integration
Bihl+Wiedemann has developed specific profiles for a number of drives from various manufacturers and stored them in the software suites. The company has also defined their own manufacturer-neutral profiles. For customers of drive manufacturers this has the virtue that when there are delivery bottlenecks for example, there is the flexibility to switch suppliers and still be able to easily integrate the new drives into their ASi networks. The profiles are hard-coded in the Bihl+Wiedemann ASi modules are sent between the ASi device and the sensor or actuator as soon as communication is started. Each ASi-5 device provides sufficient space for a variety of profiles. Additional profiles can be updated or added via firmware update.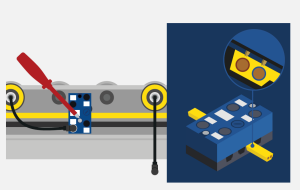 Simple installation of ASi modules in the system using piercing technology
Another simplification is the storing of parameter sets for ASi-5 devices and their peripherals in the software. Once parameterized these settings can be copied to other modules or even used as a template which is available even between different projects. The parameters are retained redundantly in the ASi network: in the sensor or actuator, in the ASi device and in the ASi gateway. This means in case of an error – wherever it might occur – the parameters are quickly and automatically loaded into the replacement unit.
New address programming device offers maximum operating convenience
Whether electrical design engineer, programmer, installer, commissioning engineer or maintenance technician, Bihl+Wiedemann is always looking over the shoulders of the people who actually use ASi to gather valuable ideas for improvements and innovations. So it is also for the new portable ASi-5/ASi-3 Address Programming Device used for conveniently addressing ASi-3 and ASi-5 devices and for automatic configuring to the ASi master. Whereas features such as attractive design, pleasant look and feel or elegant handling were barely considered in previous address programming devices, the new unit for in-place use does emphasize these aspects: a slim exterior, comfortable feel, great operating convenience and perfect user experience. Several advanced product features are combined in the unit. Visually striking is the OLED color display which ensures pinpoint clarity of settings and information in any ambient and lighting situation. Inside the handy address programming device a supercapacitor serves as a high-performance energy storage component. Fully charged in just 30 minutes, users can address around 120 ASi modules. As capacity begins to drop, a ten-minute quick charge suffices to assign an additional 70 addresses or node numbers.
The new ASi-5/ASi-3 Address Programming Device can be connected to a PC using a standard USB-C interface – not only for charging, but above all to be able to use the familiar parameterization, diagnostic and testing tools in the Bihl+Wiedemann software suites. The interface is also used for expansions of the functionality in the form of firmware updates, giving the device additional future viability. And so anyone wanting to combine the advantages of decentralized addressing of ASi devices with the virtues of central configuration and parameterization in the ASi network will find their wishes met in the new ASi-5/ ASi-3 Address Programming Device and software suites from Bihl+Wiedemann.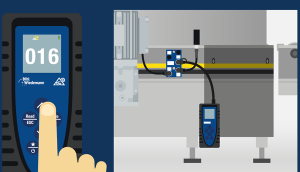 Easy assigning of ASi addresses (ASi-3) and node numbers (ASi-5) with the new address programming device from Bihl+Wiedemann
As soon as the devices have been installed in the field and addressed, the software suites can be used to place the ASi network in service. Here again comprehensive plausibility checks are performed. Does the planning in the software correspond to the installed and addressed reality on the machine? Are the correct devices connected, are there too many or too few? Were the correct devices removed from an existing maximum configuration or added to an existing configuration? Whether the user is an ASi pro or ASi newbie, whether it's the first or an ongoing series of projects – Bihl+Wiedemann supports users in many ways when commissioning the software suites. There is no simpler way to plan, wire, address and commission ASi networks – not to mention the fact that previous ASi-3 users can just download the newest program version to upgrade to ASi-5..
Diagnostic tools ensure high availability of ASi networks
Diagnostics are the prerequisite for ensuring machine availability and productivity – an indispensible aspect. Whether commissioning, monitoring and maintenance or troubleshooting and error clearing – Bihl+Wiedemann offers many diagnostic tools with a wide range of display and representation possibilities. They provide not only precise error analyses but also concrete suggestions for fault elimination. It all starts with the configuration. When devices are selected from the hardware catalog included in the software suites, the expected network and fieldbus load is automatically checked for example. This permits any possible planning errors to be prevented at the earliest possible stage. The commissioning wizard, which guides the user intuitively through addressing and configuration of the ASi modules, immediately alerts him to any discrepancies or errors in commissioning. As part of the continuous system monitoring the ASi network is always checked for possible errors. Information about the quality of the installation as well as data communication are collected and checked for example in order to prevent any problems due to deteriorating transmission properties early on. Ring buffers enable continuous tests for tracking down even sporadic events in the ASi network. Peripheral, configuration and telegram error lists are read out and processed cyclically through the use of ring buffers. With the help of the online bus information as an integral component of ASi Control Tools360 and ASIMON360, the user can easily diagnose modules and analyze safe in- and outputs as well as Safe Link connections. The OPC-UA interface, which is standard on all ASi-5/ASi-3 gateways from Bihl+Wiedemann, all the various machine and diagnostic data can be accessed and used by means of a cloud application, a local MES server or a visualization tool. The likewise integrated webserver enables fast system diagnostics, even remotely, while the gateway display enables spontaneous diagnostics in-place without the need for additional software. Many ASi modules from Bihl+Wiedemann are also configured for channel-specific diagnostics. This allows the user to quickly localize, identify and clear errors such as an output short circuit or an overload on a device.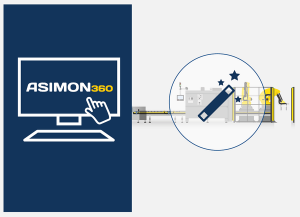 Simple commissioning of ASi applications using the commissioning wizard
But the diagnostic tools are used not only for commissioning or regular maintenance intervals and predictive maintenance, but also for inspection and acceptances of equipment. Configurations and installations can be checked for possible errors prior to the machine being delivered. The tools are also used for release measurements: detailed test reports are automatically generated which can be included with the machine as PDF files or digital machine documentation.
With their intelligent hard- and software tools whose operability and user experience are continually improved, Bihl+Wiedemann ensures perfect support of the user in setup, operation and maintenance of ASi networks. ASi made easy.