17. januar 2023
Drive solutions with ASi-5 – short cycle times and high data bandwidth
Drive solutions with ASi-5
AS-Interface (ASi) has long been an established feature of drive control. This is where the advantages of the globally standardized wiring system are especially conspicuous: the simplest installation thanks to the piercing  technology, free selection of topologies, high flexibility and low costs.
For many years Bihl+Wiedemann has been offering the ideal drive solution for many different applications – including roller drives, AC drives with and without frequency converter, as well as for 24 V motors. Our range of solutions is focused on leading manufacturers such as Lenze, SEW-Eurodrive, Itoh Denki, Interroll, NORD DRIVESYSTEMS and RULMECA. We also develop custom ASi solutions on request.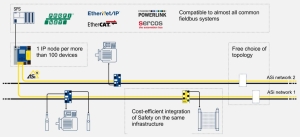 Short cycle times and high data bandwidth
Many of our new motor modules are based on ASi-5, the newest generation of AS-Interface, which features a short cycle time and high data bandwidth: up to 384 digital in- and 384 digital outputs can be controlled in just 1.27 ms with a process data width of from 16 bits to 32 bytes.
The advantages of our ASi-5 motor modules
Integration of smart drives using ASi-5 Modules with integrated IO-Link Master
Additional digital inputs for connecting the needed sensors
Cyclical writing of speeds and ramps with a resolution of 16 bits
Acceleration and deceleration settable for each individual object
Efficient control of 24 V and 48 V motors since the AUX line provides 20 W, 35 W or up to 50 W
Detailed, channel-specific diagnostics makes it possible to individually detect an output short circuit or overload on the sensor supply  for each terminal