3. januar 2023
Control (digital) RGB/RGBW LED Stripes with ASi-5 easily and cost effectively
Wide range of possibilities, proven ASi advantages
Whether pick-by-light, emergency lighting or visualization of driving movements in self-driving systems (AGV) – LED Stripes are increasingly used in various applications. Why should you control your LED Stripes with ASi-5? Because our flexible Control Modules offer so many configuration options – including up to 4.2 million colors. And because you also benefit from all the ASi advantages, such as up to 70 percent lower wiring costs compared to round cable solutions. With our new ASi-5 Active Distributors for LED Stripes you can easily control almost all common (digital) LED Stripes thanks to the separate RGB and RGBW profiles – because the configuration is done via the cyclic data. Another advantage: The modules allow a flexible connection of the LED Stripes and are supplied out of AUX.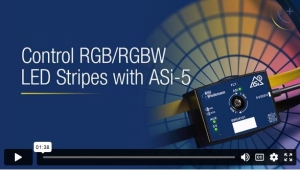 Control standard RGB LED Stripes – with BWU4083
For RGB LED Stripes from 12 to 24V up to 3 Ampere
Via PWM the power for the channels R,G,B (red, yellow, blue) is conducted
No further adjustment options are available
M12 connector for connection of common RGB LED strips
Running light width: 1-255 LED

Standard LED Stripes can manage all LEDS simultaneously. The control for color and brightness is thus done directly on the four wires (+) (R) (G) (B). This is made possible by the three PWM channels. All LEDS are connected to each other in a cascade.

Control digital/intelligent pixel LED Stripes – with BWU4101
For digital LED Stripes with 5 V supply at max. 2 Ampere
Up to 255 pixels can be controlled independently of each other
Due to the open stranded wire every connection variant is possible
Running direction ascending/descending/mixed
Cyclic running light: one-time or continuous
Light options: continuous light or flashing light with 1 Hz/ 2 Hz/ 4 Hz
Color intensity: per channel (R, G, B) 1 byte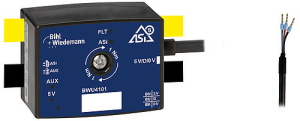 Digital LED Stripes can control each pixel individually through communication. This is possible because a control communication is integrated on each LED in the chip. Digital LED Stripes always have three wires: two for power supply and one for communication.

Recommendations for LED Strip – BWU4101
Tested with ws2812b and sk6812
Strip supply: 5 V at max. 2 A
Control up to 255 LEDs per strip
Possible applications for (digital/intelligent) LED Stripes
Pick-by-Light
Highlights on the sales floor (retail sale)
Lean management (automotive industry)
Machine status
Escape routes
Self-driving systems (AGV)