20. januar 2023
Control 48 V Drive Solutions Efficiently with ASi-5
Complete solution for 48 V drive technology
Increasingly high performance is expected in modern conveyor applications. 48 V motors, especially in the form of roller drives, are therefore becoming increasingly important. This is because they deliver twice as much power at the same current as their popular 24 V counterparts. Besides greater flexibility, this also yields potential savings, especially in energy distribution.
With ASi-5 you can realize applications with both 24 V and 48 V motorized rollers — and benefit from the typical ASi advantages: easy installation, high flexibility and low costs.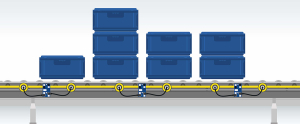 Our complete solution for the drive technology ensures efficient power distribution in 48 V AUX systems. The solution is comprised of:
ASi-5 motor modules for specific manufacturers or drives which enable 48 VDC motors to be controlled directly via ASi without an additional control unit and supplied with power using piercing technology.
New gray 48 V AUX profile cable (BW4243) for simple, flexible and cost-efficient power distribution from the ASi system. It enables 20 V to be distributed simultaneously with 48 V. To avoid mix-ups in an installation with 24 V and 48 V AUX, the 48 V cable is gray in color, which makes the cable stand out visually from the black AUX profile cable used for 24 V.
48 V/24 V voltage converters in three variants. They enable a wide variety of 24 V sensors to be integrated locally in a 48 V application in the field — simply via the gray cable. There is no need for an additional 24 V power supply unit in the switching cabinet and no additional 24 V AUX cable has to be laid through the complete system.
Efficient control of 48 V motors with ASi-5
Our ASi-5 motor modules (see for example BWU4212 for Interroll EC5000 AI) provide a flexible and cost-efficient solution for power distribution — they can supply roller drives with 20 W, 35 W or even up to 50 W. They typically integrate several drives, provide additional sensor inputs, and allow speeds and ramps to be written cyclically — with a resolution of 16 bits. This means that you can set acceleration and braking processes individually for each object and — in the case of conveyor applications — take into account parameters such as the weight, size, position or risk of tipping of individual conveyed goods in the material flow control. The ASIMON360 software makes it easy to integrate and operate the motor modules.
Integrate 24 V sensors simply and cost-efficiently
Are you considering integrating individual 24 V sensors and actuators into your 48 V drive solution? Then take advantage of our 48 V/24 V voltage converters in IP67. They allow ASi modules — with and without M12 connection — as well as non-ASi participants with M12 connection to be integrated easily and cost-efficiently at any desired location. Because a 24 V tap is possible anywhere in the field. The advantage: You do not have to lay and fix any additional black profile cable anywhere through the entire system to supply just a few modules with 24 V. This saves you a lot of time, installation effort and more. The purchase cost for a voltage converter pays for itself by eliminating just a few meters of 24 V profile cable. The cost for a 24 V power supplyis of course also eliminated.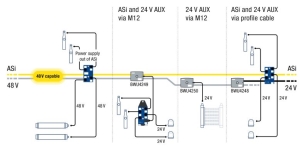 Our three 48 V/24 V voltage converter variants can be used to integrate various 24 V sensors and actuators in a 48 V drive solution — without having to lay an additional 24 V AUX cable through the entire system.