11. januar 2023
IO-Link with Bihl+Wiedemann: Easy, Flexible & Cost-efficient
Why Should you Choose Us for IO-Link integration?
IO-Link devices are nowadays common in machines and systems. This is because IO-Link allows sensors and actuators to be connected to the control level via a cost-effective point-to-point connection. Find out more about IO-Link and the associated advantages here.
This page mainly deals with the following question: What is the best way to integrate IO-Link? Bihl+Wiedemann offers you a sophisticated concept for this: IO-Link can be embedded perfectly in ASi-5 and our user-friendly PC software – from the device to the PLC or cloud. Our fieldbus independent solution provides more benefits than just freedom in the choice of topology, reduced wiring complexity without switches, and a smart power supply concept. Other advantages include reduced IP management complexity and low-cost IO-Link masters, which we provide with 1, 2, 4 and 8 ports. Numerous technical features also enable you to commission IO-Link devices with maximum convenience. For us, one thing is certain: There is no smarter and more economical way to integrate IO-Link.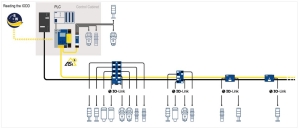 The IO-Link master is integrated as an ASi node into the ASi network
IO-Link devices can be integrated into the ASi network along with standard sensors, standard actuators and safety components
All process data (up to 32 bytes per port) of the IO-Link devices is available via the cyclic ASi communication.
All IO-Link parameters can be conveniently adjusted through the B+W Software Suite or acyclically via the control system
Diagnostic information from IO-Link available via ASi
Our IO-Link masters can be optimally combined with IO-Link devices from any manufacturer
If an IO-Link device needs to be replaced, its parameters are stored in the IO-Link master and are transferred automatically to the new one.
Cost comparison IO-Link – You save up to 40 % with 50 devices
In many application scenarios, IO-Link solutions from Bihl+Wiedemann are much more cost-efficient than similar solutions from other providers. An application with Bihl+Wiedemann is already cheaper than comparable PROFINET variants from three 4-port IO-Link masters. Another factor is the finer granularity. Our 1-port IO-Link master allows you to integrate an IO-Link device exactly where you need it. Thanks to piercing technology, it is extremely easy to install our IO-Link master. You can substantially reduce the time required for assembly.