26. januar 2023
Functional Safety – scalable solution, easiest installation
Comfortable, cost-effective, fieldbus-independent
You want to implement or redesign functional safety easily? Without complex parallel wiring? And without expensive Ethernet-based solutions in the field? Discover a cost-effective and fieldbus-independent alternative with the simplest connection technology: We offer safety solutions for any plant size – from individual programmable safety relays to huge installations with up to 1922 safe signals. Our broad safety portfolio also includes proven solutions for various special applications such as Muting, Selection of Mode of Safe Operation or Speed Monitoring.
Our safety solutions require only a profiled two-wire cable. Thanks to piercing technology, installation is foolproof: modules can simply be plugged onto the reverse polarity protected profile cable – exactly where they are needed. The modules can not only be supplied via the two-wire line, but all safe and standard signals are also transmitted via it. This eliminates the need for costly duplicate infrastructure. Our ASIMON360 PC software enables convenient parameterization of the safety technology.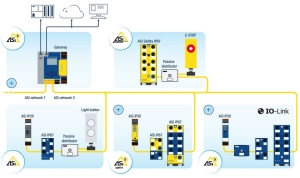 Safety technology with fieldbus interface – Gateways with integrated Safety Monitor
Our ASi Gateways can transmit digital and analog sensor data, which are read in decentrally via ASi modules, to the higher-level control via the respective bus system. The ASi Gateways also transmit the output signals of the control to the ASi actuators. The integrated Safety Monitor implements the safe transmission and evaluation of safety-relevant diagnostic data from safe input modules – as well as the safe switch-off of safe output modules decentrally via ASi wherever the potentially dangerous movement occurs. And that with up to SIL3/PLe.
Optimal PLC connection via the common fieldbuses
Safety and standard signals via the same infrastructure
Standard signals and all diagnostic data in the control
Max. 62 safe modules/devices
Optionally with safe fieldbus protocol (PROFIsafe, CIP Safety, FSoE, …) for exchanging safe data with a safe control
Expandable via Safe Link