8. maj 2023
ASi Cable – Simple and Efficient Power Distribution
What Makes the ASi Cable so Special?
Cables are mostly round. This has always been the case and with good reason. Round cables are particularly easy to route, and the channels can be sealed without difficulty. So why is the cable of the supposedly simplest fieldbus system in the world flatand also has a mechanically coded profile? Because the typical yellow ASi cable is the key to the simplicity of AS-Interface. The unshielded, two-conductor cable not only transmits data and power, it also enables easy and cost-effective installation of ASi or ASi-5 in the field.
Thanks to piercing technology, field devices can easily be installed on the mechanically coded (thus reverse polarity protected) ASi cable – with perfect contact and while still achieving protection class IP67. An additional 24 V supply is possible without problems. AS-Interface is therefore ideal for power-intensive applications such as IO-Link devices or motors in conveyor applications. And since power efficiency and higher electrical power are becoming increasingly important, we also offer modules for use with 48 V motors.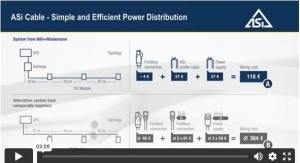 Extremely Simple Installation, Perfect Contacting
Thanks to ASi piercing technology, it is possible to connect, replace, move or add modules (e.g. ASi-5 slaves or IO-Link masters with 1, 2, 4 or 8 ports) very easily. Benefits when using the ASi profile cable include the following:
Very simple connection technology: Modules pierce the insulation of the profile cable. At least four gold-plated needles pierce vertically and reliably through the rubber sheath into the cable, where the two cable wires come into contact.
Maximum safe contacting: Two needles per wire penetrate the profile cable redundantly. Low contact resistance is also guaranteed.
Reduced installation effort: There is no need for cutting or stripping and terminating the cable as with round cables. The profile cable is simply taken from the cable reel in the desired length.
Zero Euro connection costs: Neither pre-assembled cables nor T-pieces are required to connect modules. This makes the retrofitting or conversion of systems unrivaled in terms of cost.

Four gold-plated needles always penetrate vertically into the profile cable to ensure perfect contacting
With ASi, no plugs for 24 V supply and bus connection are necessary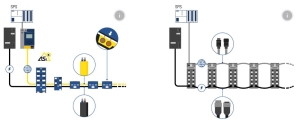 Efficient Power Supply up to 20 A
Efficient power distribution is a major challenge in many applications – and no less for IO-Link solutions and motors in conveyor applications. This is where the black profile cable is best suited, as it transmits up to 20 A. Compared to round cable solutions, the profile cable offers many advantages: